Roundtable Event
CUNA's Economic Update
10.29.2015 - 10.29.2015 (finance)
11 a.m. CST Online
This is a paid CUNA webinar that is complimentary for CFO Council members. No code is needed, if you are a CFO Council member, the cost will show as $0.
CUNA Senior Economist, Perc Pineda, will share the latest information on the current economy and economic trends for the remainder of 2015.
Join us to learn:
Understand how the global economy is impacting the U.S. economy
Discuss the trends of savings and loan activity
Review credit union balance sheets and earning performance
Analyze the current economy and future trends
This webinar has been designed for executive level staff in all areas of the credit union. In addition financial management staff, accounting staff, management, or any staff who are responsible for the financial management of the credit union or those involved in strategic planning and forecasting processes.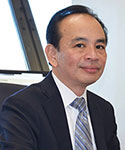 Speaker: Perc Pineda
Perc Pineda is a senior economist of the Credit Union National Association. He tracks U.S. macroeconomic trends, conducts economic research, and writes articles for CUNA publications. Before joining CUNA in 2015, Perc Pineda's 20 years of experience included academia, international financial institution, and trade association work. As an economics professor, he taught macroeconomics at St. Francis College in New York, NY and microeconomics and finance courses at the City University of New York. Prior to a stint in academia, he was at the International Monetary Fund and the U.S. Dairy Export Council.
Register
October
Cross Council Event Schedule
Date
Discipline
Title
Type
Tuition
09.23.2015
ROUNDTABLE
Free for Council Members
10.18.2015 10.23.2015
SCHOOL
Varies based on program selected
Register
More Info
10.21.2015
WEBINAR
$219, Council members get $50 discount
Register
More Info
10.27.2015
ROUNDTABLE
Free for Council members
Register

10.29.2015
ROUNDTABLE
Free for CFO Council members, others $219
Register